Product Description
Sale Price $299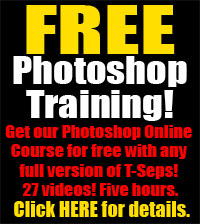 (Coupons are not valid with this offer.)
T-Seps 3.0 and 3.5.5 are simply the best automated separation programs on the market.
Important Note: T-Seps 4.0 will be released around January 15, 2023. Purchase T-Seps 3.0 or 3.5.5 now and get a free upgrade! Watch a video with features HERE.
This is a download product. To receive your purchase simply download the Free Trial at www.T-BizNetwork.com/downloads/. We do not send out a download link. To unlock/authorize your purchase please follow the steps in the manual or CLICK HERE. You have to send us an Authorization Code that is generated by T-Seps on your computer. The authorization starts with you. Once you purchase we wait for the code to complete the order.
T-Seps 3.0 works in Photoshop CS6 and CC 2014. T-Seps 3.5.5 works in Photoshop and all CC versions (English version only). They look and function almost identical. For years and years T-Seps and its little brother, FastFilms worked in the Actions panel of Photoshop using simple buttons to perform tasks. Starting with T-Seps 3.0 and now the T-Seps 3.5.5 Separation Suite it has an entirely new graphical interface and it works in its own Photoshop panel.
T-Seps 3.5.5 is a full suite of separation and graphic effects programs. If you are new to T-Seps you will find this magic program will take your company to a new level in print quality and customer satisfaction. If you are a current user of T-Seps or its older brother, FastFilms, then you already know the power of the program. Learn more about T-Seps at www.T-Seps.com.

T-Seps 3.5.5 has all the same features of T-Seps 2.0 including:
All routines improved and updated.

Windows 7 through 11 and latest Mac OS Compatible.

Cleaner and brighter colors.

Works in all Photoshop CC versions in the Panels window with a newer easy-to-use graphical interface. If you have Photoshop CS6 you need T-Seps 3.0.
New Simulated Process routine for images with flesh tones.
New Simulated Process routine for images with water, boats and fish.
New Simulated Process fleshtone routine that takes advantage of the Photoshop new facial recognition feature. Flesh tones have never looked better.

Built in video tutorials. View videos without ever leaving Photoshop.

Built in web browsing. Browse the online T-Seps support page right from T-Seps.
Built in User Manual. View the T-Seps 3.5 User Manual right from Photoshop.
New RIP routine that converts images to halftones ready to print without a RIP (to newer dye based Epson printers). This feature replaces the missing "Screen" button starting in CS6!
New halftone proofing. You can convert the file to halftones in Photoshop channels so you can see exactly what the final print will look like. You can even show the customer a halftoned proof so there are no surprises!
Greatly improved Simulated Process color routines to include additional black options, more underbase options, and better colors.
New Custom Color routine that lets you pick the colors to use from your imge.
Greatly improved CMYK Process color routine with spot and halftone blacks and cleaner colors.
New Job Proof module for creating a quick Job/Artwork proof to show the customer. Creating a job proof has never been easier.
T-Seps 3.5.5 is only available in English and only works on an English version of Photoshop.
If you have earlier versions of Photoshop or do not want the new changes to T-Seps 3.5.5 you will need to buy T-Seps 2.0. Click HERE to go to T-Seps 2.0 order page.


Other Options:
T-Seps 2.0 Upgrade to 3.5.5 - CLICK HERE
FastFilms Upgrade to T-Seps 3.5.5 - CLICK HERE
Competitive Upgrade from most "other" separation programs - CLICK HERE
If you have already downloaded and tried T-Seps then the next step for you is to buy and pay for the program here. We will send you an order confirmation. If you have not downloaded the program you can pay for it here and then download it from HERE. The Free Trial is a fully functioning version that is ready to unlock when you pay for the program.

Learn more about T-Seps and how great this program is at www.T-Seps.com.
You get free email support, internet and toll free phone support AND best of all - T-Seps can be used on TWO computers.
Note: T-Seps works with all brands of RIP that are capable of creating a halftone dot.
Custom Field
Product Reviews
Awesome, made life so much easier!