Product Description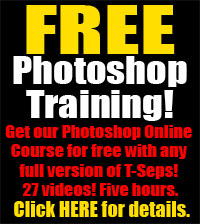 Sale Price $199

T-Seps 2.0 is simply the best automated separation program on the market
This is a download product. To receive your purchase simply download the Free Trial at www.T-BizNetwork.com/downloads/. We do not send out a download link. To unlock/authorize your purchase please follow the steps in the manual or CLICK HERE. You have to send us an Authorization Code that is generated by T-Seps on your computer. The authorization starts with you. Once you purchase we wait for the code to complete the order.

Imagine doing high-end separations in about one minute! You will be amazed at how good you look when you can do high-end printing on light and dark shirts.
Do you need T-Seps 2.0 or 4.0?
T-Seps 2.0 works on Mac or PC in Photoshop version 6.0 to version CS6. T-Seps 4.0 has more features and a new graphic interface and only works in Photoshop CC versions CC (Creative Cloud). Read more about T-Seps and the various versions at www.T-Seps.com.
If you have already downloaded and tried T-Seps then the next step for you is to buy and pay for the program here. We will send you an order confirmation. If you have not downloaded the program you can pay for it here and then download it from HERE. The Free Trial is a fully functioning version that is ready to unlock when you pay for the program.
You get free email support, internet and toll free phone support AND best of all - T-Seps can be used on TWO computers.
Product Videos
Custom Field
Product Reviews
This is an excellent software, I am very happy with the result that it does, saving a lot of time.
Thanks Scott!